Archive for the 'One Week Marketing' category
This is probably the only issue that is not covered really well in One Week Marketing.


Is One Week Marketing for Newbies?
OWM is an internet marketing plan developed by Jenifer (Pot Pie Girl) Ledbetter.


It is a five module progam that is designed to do a couple of things.
The modules are:
The One Week Marketing Guide Book.
A Conversation with Nick.
The One Week Marketing Action Plan.
The One Week Marketing-Mind Maps.
The One Week Marketing Check List.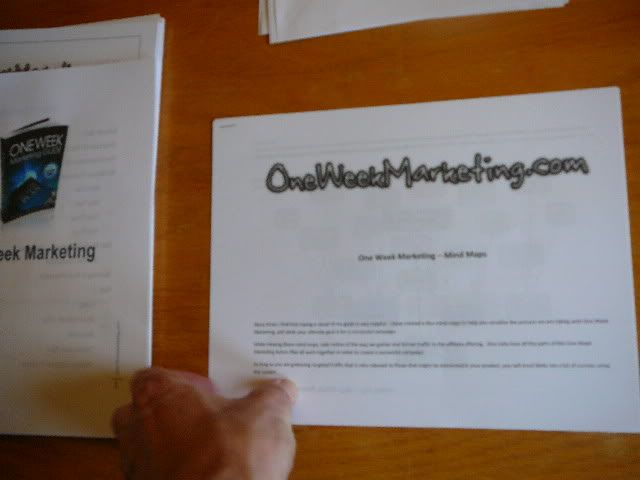 Can I see an example?
This program is great.  Jennifer uses Nick T as an example and  all of their conversations were recorded.  Pot Pie Girl also shows two examples of her projects.  After buying the OWM she also sent me more examples.  You can look at exactly how she does things and how her One Week Marketing program works.
OWM is Great for Checking out Markets.
For experienced marketers this is a great plan to check out a market. You can do a one week marketing project and see if you are going to be able to break into the niche easily. If it works then you can step it up, if it doesn't you have invested some time and less than $10. After a little practice you should be able to get a project together in less than 8 hours.
How do I know OWM for Newbies will work?
The process is simple.  If you are willing to learn, and work it will work.  Not every project will work but if you keep trying you will find some that work for you.  You also have a 60 day money back guarntee.
Should I do it just like Pot Pie Girl Says?
No, you can do extra stuff that will help, but the minimum you should do is what she recomends.  For Instance if you do not build four lenses you probably will not get ranked as quickly, if you do not do the ezine articles you will not get ranked as quickly.  If you skip any of the steps your pages will not rank as well and you will probably not get enough traffic to make it work.  This is a very simple program that is the minimum work you should do to get results.
Check out more articles on One Week Marketing

This Article gives an One Week Marketing Overview

Here is a Great Squidoo Preview of One Week Marketing
Yes, OWM is a great program for Newbie or Intermediate level marketers.  It can work very well for Advanced marketers wanting to check out a Niche.
One of my favorite hard working online personalities is Pot Pi Girl.  I have followed her blog for over a yeay.  She has a large family and started working online a couple of years ago.  She is very diligent and organized.  She has created a very simple game plan for anyone to get started making money online.


One Week at a Time
She has come up with a one week schedule of events you can do to make money in a niche.  Then Repeat.

This is a very simple game plan. Instead of going off in all directions and not accomplishing anything this is one of the best plans out there.
Purchase Pot Pie Girl's One Week Marketing Plan.
This online guide has several different parts.  She does not baffle you with a lot of fluff.
She starts by breaking everything down into a daily list of accomplishments.
Day by day Action Plan, you don't need to worry about anything but working on what she will teach you to do today.  You just do as she teaches and you will do fine.
I just finished reading One Week Marketing.  The Conversation with Nick T was great.  I also liked the simple Mind Map.  I have a Simple Mind so the Map fits….
A Recommendation for Friends
I bought One Week Marketing and printed it out
I have been online for a few years and I make a pretty good living at it.  I have a lot of friends that are interested in what I do but I have never been able to help them get started.  I have bought a lot of different packages looking to find something that would help my daughter and my friends get started marketing online.  This is the best I have found.–Rick Kern
This is the best Internet Marketing package for anyone who is not making good money online yet.  Many of the tips she gives can work on any of your online projects.  I mainly build WordPress Websites but the free  promotion techniques she recommends will work to get traffic to any page.
OWM Weakness
There is one weakness about the 1 Week Marketing Plan.  I don't feel she goes over picking keywords in quite enough detail.  The example with Nick has already picked his niche so she doesn't cover it there.  I have tons of niches that I am either working on or want to work on so this is not an issue for me.  I am working with a friend that is following the OWM plan and she has been having a bit of trouble with the Niche Issue.  I have a couple of articles I am working on addressing this issue.
The Pot Pie Girl and One Week Marketing package is a definite buy in my opinion.