Is One Week Marketing for Newbies?
OWM is an internet marketing plan developed by Jenifer (Pot Pie Girl) Ledbetter.


It is a five module progam that is designed to do a couple of things.
The modules are:
The One Week Marketing Guide Book.
A Conversation with Nick.
The One Week Marketing Action Plan.
The One Week Marketing-Mind Maps.
The One Week Marketing Check List.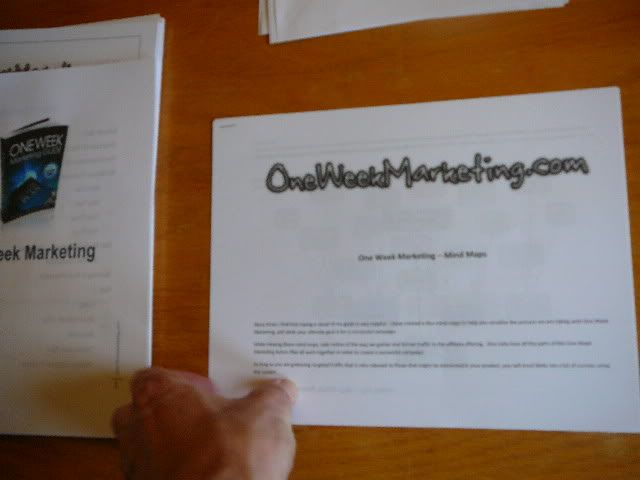 Can I see an example?
This program is great.  Jennifer uses Nick T as an example and  all of their conversations were recorded.  Pot Pie Girl also shows two examples of her projects.  After buying the OWM she also sent me more examples.  You can look at exactly how she does things and how her One Week Marketing program works.
OWM is Great for Checking out Markets.
For experienced marketers this is a great plan to check out a market. You can do a one week marketing project and see if you are going to be able to break into the niche easily. If it works then you can step it up, if it doesn't you have invested some time and less than $10. After a little practice you should be able to get a project together in less than 8 hours.
How do I know OWM for Newbies will work?
The process is simple.  If you are willing to learn, and work it will work.  Not every project will work but if you keep trying you will find some that work for you.  You also have a 60 day money back guarntee.
Should I do it just like Pot Pie Girl Says?
No, you can do extra stuff that will help, but the minimum you should do is what she recomends.  For Instance if you do not build four lenses you probably will not get ranked as quickly, if you do not do the ezine articles you will not get ranked as quickly.  If you skip any of the steps your pages will not rank as well and you will probably not get enough traffic to make it work.  This is a very simple program that is the minimum work you should do to get results.
Check out more articles on One Week Marketing

This Article gives an One Week Marketing Overview

Here is a Great Squidoo Preview of One Week Marketing
Yes, OWM is a great program for Newbie or Intermediate level marketers.  It can work very well for Advanced marketers wanting to check out a Niche.